By Haylee Cohen
We are excited to announce that the incredible works of three of our talented alumni – Sam Bryant, Rebecca Edwards and Claire Martin's designs are now stocked at Freedom Australia stores nationwide, marking a significant achievement for these talented designers. The LCIM X Freedom Australia Design Competition is an industry facing brief that allows students to work directly with the Freedom design team to conceptualise and develop their ideas.
Graduating with a double major in Visual Arts and Film & Photography, Sam has seamlessly blended various artistic mediums to bring his creative vision to life. His multidisciplinary approach has inspired him to push artistic boundaries and ultimately catch the eye of the Freedom Australia team. Growing up in Port Phillip Bay, Sam was inspired by sandstone and composition leading him to create 'Hazy Bay', a stunning piece that reflects beauty and tranquility.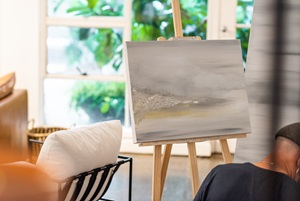 After gaining her Bachelor of Design Arts majoring in Fashion & Costume Design, Rebecca submitted a winning textile print named 'Ceceila'. Rebecca is an experimental textile artist who used hand-dying techniques to create a beautiful and organic pattern from eucalyptus leaves from Victoria's Werribee River. Rebecca's winning design 'Ceceila' has been purchased by Freedom and developed into a captivating cushion cover.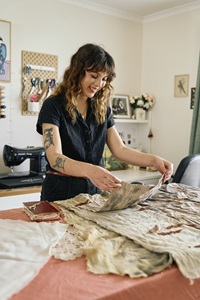 The LCIM X Freedom Design Competition marked the beginning of Graphic & Digital Design alumni, Claire Martin's journey. Starting with a winning packaging design for a range of gift boxes, this success led to a three-month internship, evolving into her landing a full-time job leading a significant project: the redesign of Freedom's packaging for homewares.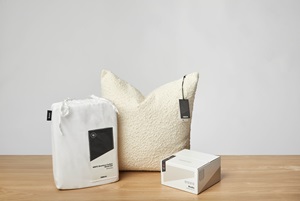 Visit your nearest Freedom Australia store to witness firsthand the innovative and stunning designs crafted by these talented designers.