Visual Art is studied as a major in the Bachelor of Design Arts. For more information on the degree structure, fees and entry requirements, see our Bachelor of Design Arts.

Develop your artistic vision and have the freedom to create your own work and exhibition space in a studio-based environment.

A wide range of mediums and aesthetics are introduced, with an emphasis on individual development and experimentation.

Foster your visual literacy skills by researching traditional artistic techniques, fundamental art movements and concepts, as well as interdisciplinary and contemporary methods that include performance art, multimedia and installation.
Major Details
Our majors are taught through design 'laboratories' that replicate the creative studio process used by professionals in creative areas. The 'lab' is where students and mentors collaborate and you will progress your concepts into tangible final design outcomes.
LAB 1
Students are introduced to fundamental art movements and concepts to support practical and material workshops which give them an overview of techniques, methods and applications within the arts.
LAB 2
Students are introduced to weekly topics with different issues being focused on and showing the different ways that the arts have interpreted, reacted to, contributed to or represented these issues across time and culture.
LAB 3
Students explore their own context and begin to think of the world more broadly with a focus on global perspectives. This is explored through international collaboration, researching different cultures and their art practices both historically and contemporaneously.
LAB 4
Students spend time visiting and researching different art spaces and institutions through physical excursions and digital means. The major culmination of this unit is in an industry project, a client brief delivered by an industry partner/s.
LAB 5
Students apply all their learning to develop major bodies of work for presentation. This unit is the final step towards emerging as a young professional, emphasis is placed on exploratory creative development of original ideas and viable concepts.
Brigit Heller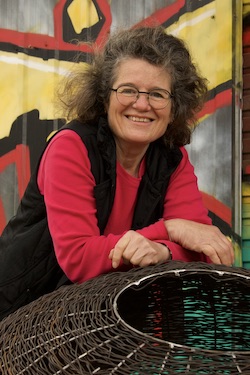 Image: Adrian Plitzco
Although fascinated by the rigid strength that different metals offer, Brigit uses a variety of mixed media in the creation of her mostly 3-D works. Her European heritage and rural upbringing shine through her works in different ways.

Brigit has shown her work in solo exhibitions at Icon Museum of Art, McClealland Sculpture Park and Montsalvat amongst others. She has also been shortlisted for The Helen Lempriere National Sculpture Award among others.

Public talks and workshops are also a regular feature in Brigit's busy schedule alongside teaching and creating.
Emma Michaelis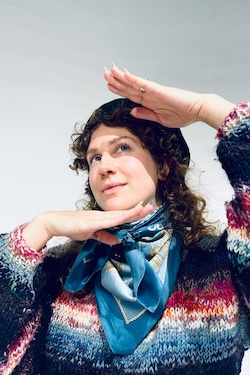 Image: Mimby Robinson
Emma is an artist, curator, mother, perpetual student and academic who is interested in the intersections between viewer, space and work, asking: can we know what it is in some art that engenders real affective connections rather than detached representation?

Emma has a dedicated drawing practice, creating large-scale coloured pencil on paper drawings which seek to uncover the human relationship to parameters of physicality and the conscious/unconscious link between self and body.

Through years of making art and extensive working and exhibiting, Emma has developed a deep connection to the articulation and interpretation of the body and a keen interest in Feminist body theory, which sits alongside and is embedded within her formal training in Fine Art and Cultural Heritage and Museum studies with a specialisation in Collections management.
| | | |
| --- | --- | --- |
| | | |
| Amy Graham | Amy Graham | Lilah Benetti |
| | | |
| --- | --- | --- |
| | | |
| Madi Whyte | Faith Gallagher | Faith Gallagher |
| | | |
| --- | --- | --- |
| | | |
| Samatha Taylor | Samatha Taylor | Leilani Bale |
Students are also encouraged and given the opportunity to participate in a range of external art events, either exhibiting their work, supporting other designers runway shows or attending VIP events.

Our students have been involved in some of the following visual art projects and events:
Freedom X LCI Design Competition
Graduate of the Year Awards
Melbourne Design Week
PAX
Platform Arts Geelong
Industry Speakers
LCI Melbourne has an expansive network of industry relationships that benefit students by providing industry projects and case studies, professional guest lectures, internships, and exhibitions. We have a diverse community where all are welcome.
Artist
Illustrator
Curator
Art Director
Cartoonist
Storyboard Artist
Book Illustrator
Art Archivist
Freelance Commission Artist
Digital Print Designer
Ceramic Artist
Performance Artist
Print Layout Artist
Art Consultant
Art Buyer/Dealer
Art Therapist
Sculptor
For more information on careers in design, please visit our industry partner, the Design Institute of Australia's website.
Amy Graham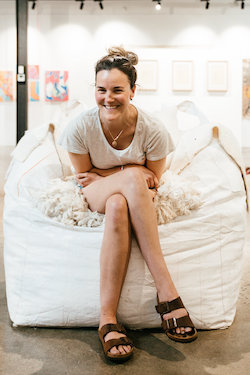 Amy Graham graduated from LCI Melbourne with a Double Degree in Visual Art and Interior Design. While studying her Bachelor of Design Arts, Amy was also awarded the Dean's High Achiever Scholarship.

Amy has presented workshops with LCI Melbourne for Melbourne Design Week and has exhibited across Melbourne including at the Yarra Sculpture Gallery, The Herring Island Gallery and LCI Melbourne. You can explore all of Amy's projects here.