By Haylee Cohen
We are excited to announce that Interior Design mentor, Petrina Turner's outstanding work with Campground Kitchen, has been shortlisted for the DIA Designers Australia Awards in the Place category. This remarkable project has left us bursting with pride and shines a spotlight on the extraordinary talents within our community. The Designers Australia Awards focuses on showcasing individuals' design process and aims to celebrate ideas, creativity and diversity. This achievement not only highlights her exceptional skills but also underlines the invaluable contribution she makes to our Interior Design Program.
Campground Kitchen is more than a pizza bar, it is a community-focused restaurant that emerged from the ashes of a devastating fire in December 2021. Petrina worked alongside owners Sonia and Remi to transform the space into a welcoming haven, embodying resilience and authenticity. With over 3 decades of industry experience, Petrina brought her unwavering expertise to create meaningful design solutions and beautiful, cohesive interiors that reflected her client's unique story.
"I'm so thrilled that my work with Campground Kitchen has been shortlisted for the DIA Designers Australia Awards - Place! Words can't express how proud I am of this special project, and I feel deeply honoured to be recognised among peers I greatly admire."
Petrina Turner, Interior Design Mentor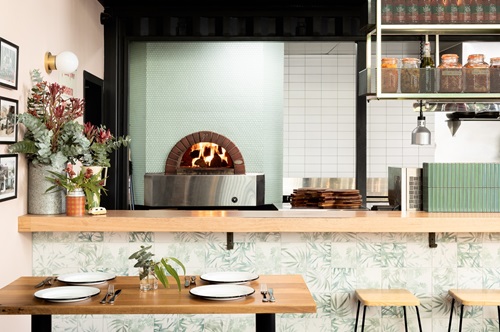 Together they embarked on a creative journey to craft an environment that encapsulates the essence of campground joy and fosters meaningful connections within the community. Petrina's tireless efforts have not only bought the space to life but have also set an example for our aspiring artists and designers.
"This recognition reinforces the idea that even as a small business, we can make a significant impact. It's a testament to the vibrancy and diversity of Australia's design community, highlighting that outstanding design practices come in all shapes and sizes. I'm immensely grateful to the Design Institute of Australia."
Petrina Turner, Interior Design mentor
We invite you all to visit Campground Kitchen and witness first-hand the transformation that has been born to deliver a truly immersive dining experience.
Interior Design & Styling – Petrina Turner Design
Photography – Amorfo Photography
Styling Assistant – Angela Kang (LCI Interior Design Alumni)