By Haylee Cohen
Our gallery space radiated with vibrant energy and creativity during our August Open Nights!
Students from various disciplines came together to showcase their work in a Student Gallery Takeover curated by Visual Arts student, Jackie Ruttner. Jackie was a driving force behind this initiative and in shaping the vision of this exhibition. She encouraged students to seize the opportunity to gain exposure, network with fellow creatives and the wider community.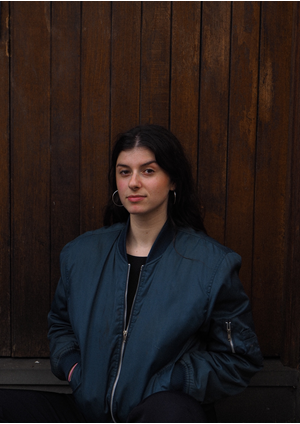 "It was a way to bring together our student community from different majors and points in their academic journey. I enjoyed encouraging my peers to take initiative and utilise this opportunity as starting points in our careers."
Jackie Ruttner, Visual Arts student
The Student Gallery Takeover served as a testament to the exceptional creative abilities of our students, presenting a diverse range of artworks that highlighted their individuality and talents.
This event is a testament to our commitment to amplify student voice, agency, and advocacy—a cornerstone of our Student Success Strategy framework. At LCI Melbourne, we empower students to embrace their identity as confident artists and designers.
"As a Visual Art student, being offered a role in curation and project management has been eye-opening and invigorating. Taking on a new challenge, with the support of my peers and mentors, reminds me of my own capabilities and excites me for future endeavours."
Jackie Ruttner, Visual Arts student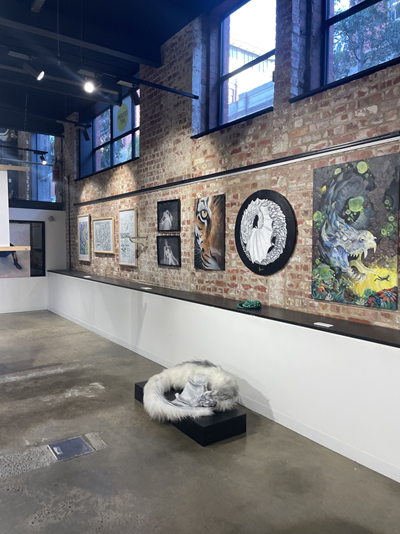 We spoke with Jackie to hear about her experience leading the Student Gallery Takeover and how this role has shaped her perspective, skills and outlook on curation.
How has your experience leading and curating the Student Gallery Takeover
impacted
your overall growth as a student?
Transitioning from wearing my student hat to wearing one with more responsibility has been an interesting, energetic and dynamic shift for me. I've realised that we only learn by doing things and everyone has to start somewhere and there is no shame in not knowing all the answers. Shifting my perspective from fear of the unknown to choosing to be present was crucial with this task and this experience allowed me to express myself and ideas in a new form.I had been thinking of volunteering at gallery spaces and now I have some skills and understanding under my belt for my future endeavours.
How did collaborating with fellow students enhance your ability to lead this takeover?
To me, the most rewarding part of this opportunity was being able to collaborate with fellow students. As emerging artists coming together to empower each other and recognise the individuality in us all, is extremely valuable and rewarding. Having this opportunity to reach out to students and give them the space and a platform to share their work was really special and I didn't want anyone to hold themselves back.
How have the units you've studied enhanced your confidence and skillset as you navigated the challenges of curating the exhibition?
My lab units I've studied at LCI require me to delve into artists, both locally and globally, before I write a proposal to explore concepts and themes in my artwork. Through this exposure, my knowledge of professional working artists has expanded, from past to contemporary practitioners. My mind has opened up to more possibilities and ways I can create as I was able to discover artists unknown to me and generate physical lists and databases of galleries and artists that inspired me. These collections began to inform my practice and taste. I went from underestimating my abilities to recognising my own place in the art world as I cultivate my passion, driving me to further my personal studies.
What advice would you offer to other students considering curating their own personal exhibition?
You will have an intuition and sense of what works and what doesn't. Take advice from others but ultimately trust your own decisions. Whilst you are still a student, try new things, experiment and play without fear.
A big thank you to Jackie and to all students for their exceptional contribution.