By Haylee Cohen
Image: Eli Christopher
We are tremendously proud
of the spectacular exhibition put together by our Fashion & Costume students for Melbourne
Fashion Week 2023.
Located at the Collins Place Gallery, our final-year students collaborated to transform the space into an independent pop-up stall, offering a captivating display of their garments and imagery from recent collections.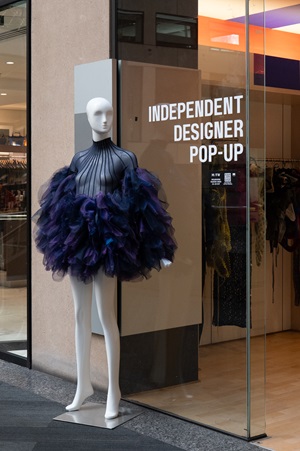 Image: Eli Christopher
This curated exhibition transcended traditional showcases, providing an immersive journey into the creative minds of our talented students. Visitors throughout the week had the unique opportunity to delve into the students' creative processes, closely inspect garments, and witness the transformation of original concepts into tangible designs.
What truly sets this exhibition apart is the direct engagement with the designers themselves. Under the guidance of Fashion & Costume Design mentor Todd Anthony, our final-year students were on-site throughout the week, eagerly sharing the narratives behind their designs, discussing the inspirations fueling their creative processes, and unraveling the artistic odyssey that brought their visions to life.
"The determination and dedication to design, not only contemporary and innovative in aesthetic, but responsible with specific attention to the protection of people or planet and animals has inspired me. This gives me such great hope that our future world is in the hands of emerging designers that will not only produce really cool fashion but will produce garments that assist in healing our world." Says Todd Anthony, Fashion & Costume mentor.
The integration of a pop-up stall allowed attendees to not only admire the craftsmanship of these emerging designers but also become proud owners of these unique pieces. It marked a transformative experience, closing the gap between creator and consumer and fostering a direct connection between artistry and admirer.
"I think

it's

incredible that all of us designers had the chance to

showcase

our work and not just see it on a runway where

it's

out of touch with consumers.

People had the chance to actually buy our pieces and see them up close.

I've

been lucky enough to sell a couple of pieces, and

it's

been great to see somebody enjoy something that

I've

made."
Nikki Edgar, Fashion & Costume student.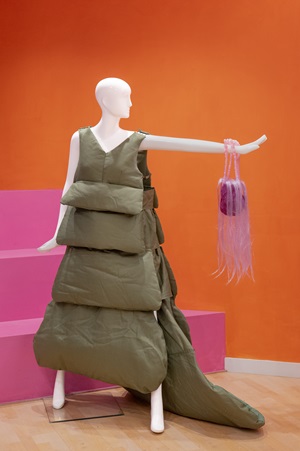 Image: Eli Christopher
As Melbourne Fashion Week concludes, the impact of this student-led exhibition resonates, leaving a mark on the fashion industry landscape. A heartfelt thank you to everyone who visited the space and supported our students throughout this exhibition.